Have you tried one of the mechanical gaming keyboards from the POSEIDON Z Series yet?
I figured here's a good place to do a bit more length of an introduction about the Z series.
With the POSEIDON Z series, Tt eSPORTS aimed to set a precedent by offering a full-featured yet budget friendly fully back-lit mechanical keyboard for gamers – something that could get a first time mechanical keyboard user to come on board. However just because a gaming mechanical keyboard is "budget friendly" does not mean it has to be poorly made, the POSEIDON Z series can also satisfy the mechanical keyboard enthusiast.
We spent two years testing various mechanical switches with its engineers and professional gamers. And eventually, we found the right one- with White Ra, Team DK, other sponsored teams, and our keyboard engineers all agreeing unanimously. The POSEIDON Z series offers users the budget friendly back-lit blue / brown mechanical switch keyboards, featuring brightness adjustment, anti-ghosting keys, media keys, and the ability to disable the windows key.
The testing process for these mechanical switches was an arduous one, but these switches passed and we believe in them so much that Tt eSPORTS is now offering the

world's first 5 year warranty

for a mechanical gaming keyboard.
The current models out for the POSEIDON Z Series include the Z Illuminated and ZX, a tenkeyless form factor keyboard.
You can see below, in the picture the size difference.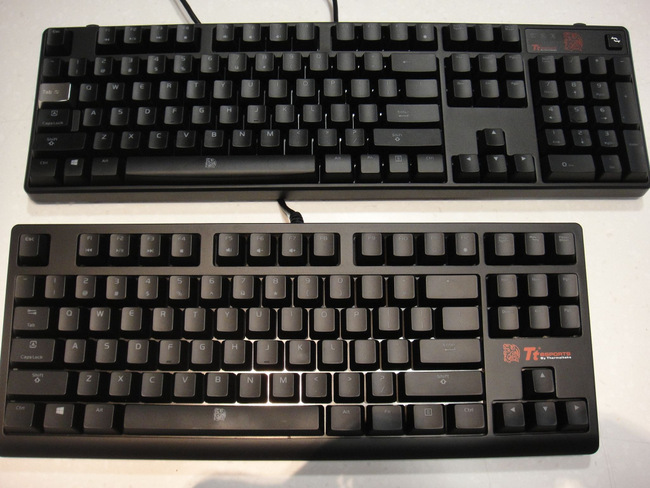 The Z Illuminated is a full-sized traditional form factor keyboard, which is great for gaming and office use (that may include excel).
Whereas the ZX, coming in a tenkeyless form factor, runs about 80% the length of a regular keyboard. By saving the space where the number-pad would have been, the ZX is easier to take to lan & great for environments where you may not have as much space to game. The ZX's space saving feature, may be just what you need to stop your mouse from running into your keyboard at those crucial moments.