Being an airhead I am starting a build utilising 14 x RGB Riing 12 fans (with 6 controllers) and 2 x TT Pure 20 fans which I want to install in a TT X9 case:
8 x (2 banks of 4) RGB Riing 12's in the top
4 x RGB Riing 12's on the window side of case
2 x RGB Riing 12's at back of case
2 x Pure 20's at front of case
Dark Rock Pro 3 CPU cooler
If you view the attached Thermaltake promo picture you will see that the case can accomodate this number of fans even though they are not RGB Riings.
CPU is Intel 6700K and GPU is Zotac 980ti Amp edition. I have an Asus Z170 Pro Gaming motherboard and the PSU is a Corsair 1000RMI. The mobo spec states that there are five 4/3 pin (PWM/DC) combo fan connectors and 5 onboard thermal sensors as well as a fan extension (EXT) header for quick and easy fan upgrades. The PSU spec states 11 x molex and it has dedicated link software to monitor and control the fans.
Due to the unusual nature of the Thermaltake controllers and my other options, I am wondering about how best to control all the fans.
The pc build is to power up a motion simulator and an Oculus Rift CV1 when it arrives, with plenty of headroom.
I know it's overkill on the fans (21 including CPU cooler and GPU fans) but it's an aesthetic consideration and it will make a good heater/hoover if nothing else.
It's my first build (yup. I am crazy) but hopefully the end result will be worth it. Any suggestions would be much appreciated.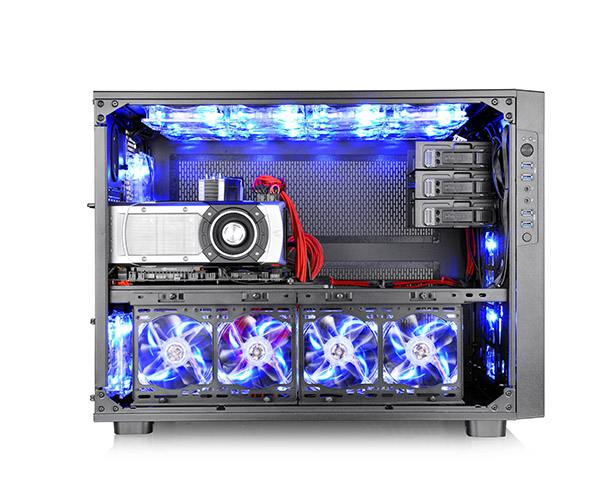 Thanks
paul