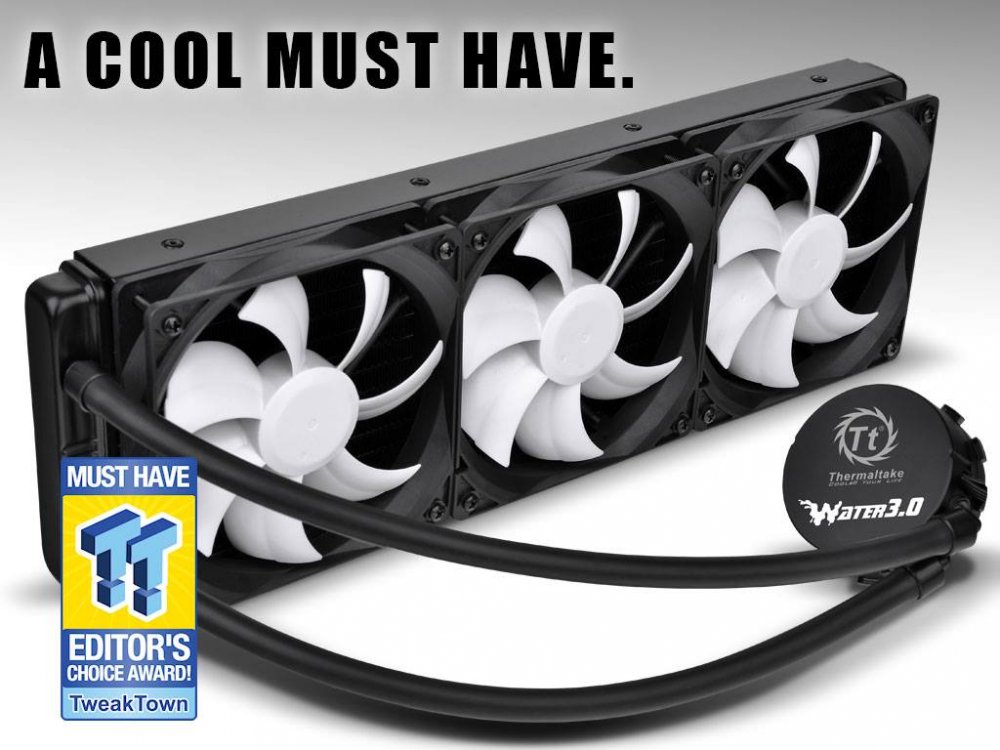 July 31, 2014 - by Chad Sebring
Thermaltake breaks barriers with its latest cooler. Have a look at our first ever 360mm triple radiator AIO in Thermaltake's Water 3.0 Ultimate.
Thermaltake proves that sometimes it is much better to be first once again. In short, the Water 3.0 Ultimate is the end all be all if you are looking for the most efficiency of any AIO we have tested. Of course, most others tested were 240mm systems, but also remember, even on the custom loops that got beat, they come with 60mm thick radiators, and outright kill the Water 3.0 on surface area, yet they could not keep up. We also realize that most of what makes a good radiator great is when the fans that accompany it are up for the task at hand, and with the high FPI design in Asetek radiators, throwing near 300 CFM of airflow through this radiator was bound to have tremendous effects on cooling, and our charts prove that as well.
Do not consider our lack of an instruction sheet and splitter cable to be any reason to think ill of this design and quality, both as a cooler, as well as its contents. Realize that butts were busted to get this cooler to us as soon as possible, and we had to take what was available, but retail kits will have everything needed to get the Water 3.0 Ultimate up and running in your system as expected.
This does lead us to one of only two things that we can actually make a slightly ill remark towards. One of them is of course the need for room. You are going to need a full-tower design with triple 120mm radiator support in some form to use this internally. The second thing that Thermaltake brought up is the noise levels. Of course, some will say this is way too much to have sitting next to you, but the intention was to be the best of the best, and sometimes when trying to set the bar as high as Thermaltake has with this cooler, concessions have to be made, and with PWM in control, only rarely will you hit out such high noise levels.
Availability may be quite low at this moment, but knowing this cooler is going to hit the market very soon, and at only $139.99 as set by Thermaltake's MSRP, we can see the lines forming already to be some of the first to own this cooler. We hope for your sake that customs is polite and expeditious in the manner in which they check that container through, as we know a few of you are already foaming at the mouth to get one of your very own. To put that pricing into perspective, the Water 3.0 Ultimate is releasing for around $10 more than any typical 240mm AIO releases at, and it handily beat the Phobya kit that costs much closer to $200 to own. Looking at things in that sort of light makes this the obvious choice.
We really love the trend that Thermaltake has taken in the last year or two. They must really have some great minds over there in their concept and R&D teams. While we saw the changes happening slowly over the years, it's like the whole company has been injected with caffeine as of late, because there is a whole new league of products coming out. We all had the question in the back of our minds about a 360mm AIO and what sort of performance could be had. Well, with the advent of better cases to support this, Thermaltake bounds into the charts, pushing everyone out of their way to stand proudly on the top of the heap, with the best performing AIO we have ever tested.

For more information, please go to: http://www.tweaktown.com/reviews/6553/thermaltake-water-3-0-ultimate-360mm-aio-cpu-cooler-review/index.html