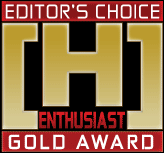 August 15, 2014 - by Kyle Bennett
Today we are reviewing the Thermaltake Core V1 mini-ITX computer case.
Thermaltake is a company that needs no introductions. To be honest, the reason most of us know the name is because you've probably, at some point in the past decade, had one (or more) of its products installed your system. In the early days, the Thermaltake brand was synonymous with performance cooling but, over the last few years, it is hard to find a segment of the industry the company hasn't expanded into.
We have featured numerous product from Thermaltake in our product reviews over the years, everything from the company's cooling products and award winning power supplies to audio components and its uniquely distinctive computer cases.
Lots of folks are looking towards a high end desktop computer system with a much smaller footprint. Mini-ITX motherboards have gotten to such a good quality level over the last few years, putting a gaming and overclocking behemoth in a small case is a possibility and Thermaltake wants to take it to the next level.
As with any chassis that lacks a 5.25" external drive bay, if you cannot live without an optical drive, you will need to look at other small form factor cases. This is neither a positive or a negative, it is just something you have to take into consideration when building a system in this case. Only two 3.5" hard drive mounting locations can be a turn off for some but, as we showed you earlier, that too can be remedied with just a few screws. We would have liked to have seen exhaust fans included with the case but, as it turns out, the Core V1 performed very well without those. The filtration system, specifically the lack of filters for the side panels was a bit of a let down, but it is hard to complain considering the price point.
Enthusiasts are in and out of their cases more than any other group we know. We are constantly upgrading our hardware, troubleshooting or just trying different configurations. The Thermaltake Core V1 has a surprising amount of room and is easy to work in and around. Thanks to some clever design choices, Thermaltake lived up to its promise of being able to use standard desktop components in this chassis. The cut out for the GPU is brilliant, the separate compartment for the PSU and the ability to use CPU coolers up to 140mm in height gives you plenty of options when selecting a cooler for your system.
After spending a good deal of time with this case, we can safely say that Thermaltake's "Your Build, Our Core" moto is spot on. The Core V1 would make a great foundation for a Steam Machine, HTPC, or LAN box. With a little ingenuity, we even turned this chassis into a very competent file server capable of holding up to four 3.5" hard drives.
The cooling performance of the Core V1 was great all the way around. In standard trim it didn't break a sweat and did almost as well in enthusiast trim. Adding an all-in-one cooler might be nice for your CPU but, by removing the large 200mm fan, the temperatures of your other components will suffer. We found that the best overall cooling performance came from leaving the 200mm intake fan in place and installing the best 140mm CPU cooler you can find.
The Thermaltake Core V1 is one of the best mini-ITX cases we've ever seen. The minor faults are just that, minor and the versatility makes working with this chassis a true pleasure.
Surviving our enthusiast testing process isn't a chore to be taken lightly. Every case that comes through the HardOCP labs is thoroughly examined, pushed to the limit, and tested in ways that we feel gives you an accurate assessment of the product's ability to perform in the manner you would use it at home.
The Thermaltake Core V1 should be at the top of the list for anyone building a LAN box, HTPC, or Steam Machine. The ability to pack this case with full-size, high-end hardware will make it a favorite with enthusiasts looking to reduce their system's footprint without sacrificing performance.
The Thermaltake Core V1 is available at Amazon for $46.14 plus shipping and at Newegg for $49.99 plus shipping.
Thermaltake Core V1 Mini-ITX Computer Case
For more information: http://hardocp.com/article/2014/08/15/thermaltake_core_v1_miniitx_case_review/1