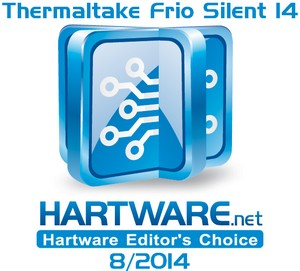 August 26, 2014 - by Jan Ramon Fischer
Thermaltake new Frio Silent Series - Frio Silent 14, another CPU cooler with non-interference cooling design for the use of high performance RAM and motherboards, 140mm fan silently enhance air flow to aid in performance. Fully compatible with RAM of all kinds, ideally for power users to fill their RAM slots with high-end overclocked RAM.
We got a very positive review from Hartware. The cooler scores above average compared to ~30 regular CPU coolers, especially under load. Compared to other silent coolers, it scores 2nd out of ~30 coolers under load (only beaten by the Alpenföhn Himalaya 2). The only point for critique is that you can not turn the cooler by 90° to avoid overlapping with overclocked and oversized RAM bars on AMD systems.
"All in all, the Thermaltake Frio Silent convinces through its low sound level and good to very good cooling performance as well as the easy installation. We can especially recommend this cooler for silence freaks, the price of roughly 40 EUR is appropriate for a silent cooler of this caliber.â€
Pros
- extremely silent, even at 12V
- good to very good cooling performance
- good build quality
- easy installation
Cons
- can not be turned by 90° on AMD systems, which might cause problems with high RAM heatspreaders
For more information: http://www.hartware.de/review_1764_1.html